Film Scoring | Composition | Production | Editing | Orchestration | Sound Design | Songwriting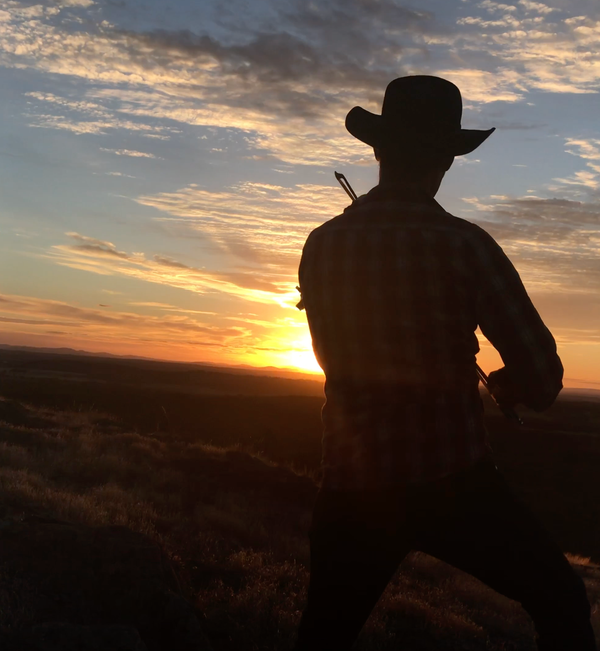 Listen above to a sample of "BloodSport". 
- Sung by Nigel MacLean with accompanying vocals from Yirrmal Marika.

Despite being the most wanted man in the British Empire in 1865 Ben Hall had much support throughout Australia for his stand against a corrupt police. The threat of having your home burned to the ground if you became a police informer was very real. 
The silent, watching spirit sings up a warning to anyone tempted by police rewards. 
" BEN HALL - A TALE OF TWO WORLDS"

 
As part of the festivities at the 150th commemoration of Ben Hall's violent death the great-great nephew of the bushranger, Nigel MacLean, premiered a special preview of original songs written for a musical elegy or song cycle.
Adopted out in NZ in the 1960's by his Australian birth mother, it was 20 years later that he would get to meet her and find out the incredible story of his bloodline. The first words uttered by her when they first came face to face was "do you know who your great-great uncle is?" Her grandfather was Ben Hall's immediate younger brother Robert Joseph Hall.

As an established composer and musician Nigel has lived in Australia over half his life and creating this show now has a personal motivation behind it.
"This project is about finding belonging. My childhood was spent in NZ with my adoptive family, and now that I have children of my own, born in Australia I feel a great need to connect more to the land of my birth mother. This land is a treasure trove of amazing stories and for a thousand eons stories have been sung up and acted out in this country. It feels like the Australian thing to be putting this story of one of my ancestors on the musical stage."

Now a resident of Castlemaine, Victoria Nigel has been collaborating with local poet Phil McNamara to bring the songs to life. With titles such as "Bloodsport" where threats of burning the house down buy silence from those in the know or "Riders" which tells of the Canowindra hostage taking of three days to "Smoking Gun", a soulful elegy of the lonely outlaw road where the only place of rest is probably the hangman's noose.
This new gritty music show reveals the story of an innocent man's drive for vengeance, where "resistance is a duty whilst injustice is the law" and questions much of the often written "facts" on his story. People, pivotal events and circumstance in the bushrangers' short life are explored in this vital story of Australian history.
 
Nigel MacLean - Violin Loop Artist
 
Nigel MacLean is an "all terrain" violin loop artist and creates live loops to build a dynamic and big fat sound.  With influences from blues to rock and world Nigel MacLean layers beds of songs and sings over the top of them. 



JACK CHARLES V THE CROWN


It was during the runaway success of his theatrised life story "Jack Charles v The Crown" when Jack Charles discovered a musical chemistry, born out live in front of sold out crowds at Belvoir St theatre,  Melbourne, Brisbane and Perth Festivals. It was not long before musical director Nigel MacLean and percussionist Phil Collings, both musicians in Jack Charles v The Crown,  made a creative decision to record the music from the stage show and experiment with the narrative from Jack's life story to create a soundtrack with hauntingly honest delivery,  revealing the ramifications of a life once lived in dark corners. It is composed with dark, hard edges whilst remaining triumphant at the core. Listen to a sample from the CD of the Opening track.